The 2nd International Symposium on Frontiers in Radio Astronomy and FAST Early Sciences (FRA2015) was held in Guiyang, China, on July 29-31, 2015, focusing on the refinement of early sciences of FAST.
With the sponsorship from Ministry of Science and Technology of China (MOST) and Chinese Academy of Sciences (CAS), the conference was organized by National Astronomical Observatories, Chinese Academy of Sciences (NAOC) in Guizhou Normal University (GNU), of which the Joint Astronomy Center of NAOC-GNU serves as a co-organizer. Jianjun Li, President of GNU, Xiaonian Zheng, Deputy Director-General of NAOC, and the official representative from CAS delivered remarks at the opening ceremony. The three-day event gathered 97 participants, including experts, scholars and students from 10 countries, e.g. Carl Heiles, Member of US National Academy of Sciences and Director of Radio Astronomy Lab, UC Berkeley, Peter Wilkinson, Associate Director of School of Physics and Astronomy, University of Manchester, Lister Staveley-Smith, Director of ICRAR, University of Western Australia, Luis Ho, Director of KIAA at Peking University, and Xiaoyu Hong, Director-General of Shanghai Astronomical Observatory of CAS.
The conference started with the introduction of FAST progress from 2011 and its parameters, presented by FAST engineers. The following presentations and talks range from pulsar searching, gravitational-wave measurement with Pulsar Timing Array, detection of FRB and GRB, interstellar medium research, galactic evolution and observations, HI cosmology to the observation of FAST as part of an integrated array. The last session of the conference witnessed the concerns and interests of international astronomers, ending up with Di and Carl's summary. All the experts from all around the world have given suggestions and comments that will be of great value to the future of FAST.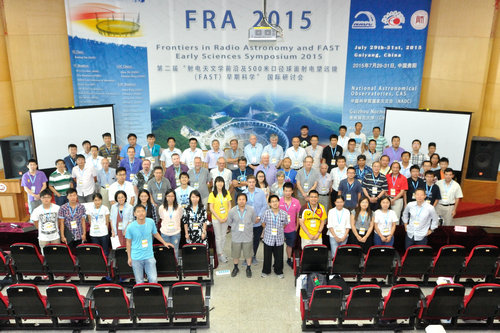 Group Photo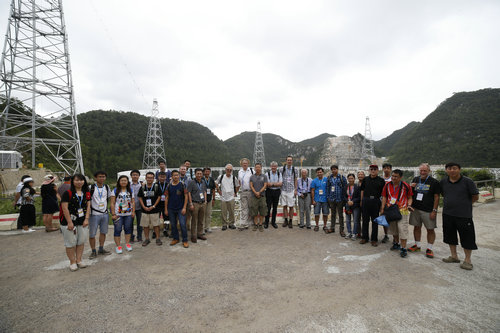 FAST site visit