On June 11, the third WorldWide Telescope (WWT) Guided Tour Contest Award Ceremony was held in Chinese Science and Technology Museum. A total of more than 300 astronomers, educators, amateur astronomers, students, public media and business representatives attended the ceremony.
The third WWT Guided Tour Contest was launched in October 2016. A total of 88 works had been collected until March 2017. After experts' review, 3 first prizes, 7 secondary prizes, 14 third prizes, and 27 honorable mention prizes were selected out of the 88 works. 5 works were awarded the "Best Idea", "Best Script", "Best Visual", "Best Editing", and "Best Sound" prizes respectively. Outstanding advisors and organization Institutes were also commended on the ceremony. In addition, 15 works got the Most Web-user Popular Prizes, resulting from online voting during April 1-22 on the website of China Digital Science and Technology Museum.
This contest is a part of China-VO Initiates of "Data-driven Astronomical Education and Public Outreach", aiming at inspiring participants through the design of WWT guided tour, improving their ability of scientific and technological innovation, and cultivating their spirit of teamwork.
More information about the contest is available at:
http://wwt.china-vo.org/tours2017/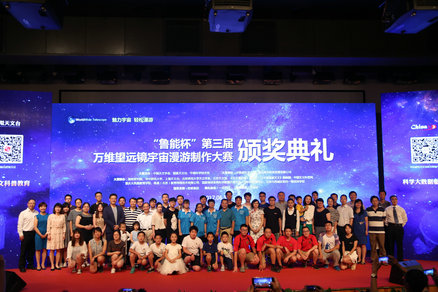 Group Photo