Astronomical Collaboration Signed Between China and Uzbekistan
On March 21, 2014, a Memorandum of Understanding on Scientific and Instrumental Collaborations between Ulugh Beg astronomical Institute, Uzbekistan Academy of Sciences (UBAI) and National Astronomical Observatories, Chinese Academy of Sciences (NAOC) was signed by representatives from each side. These representatives were Prof. Shuhrat Ehgamberdiev, Director of UBAI and Prof. Yan Jun, Director-General of NAOC, respectively. This represented follow-up action from the joint decision made by both the President of the Republic of Uzbekistan, Islam Karimov, and the President of the People's Republic of China, Xi Jinping, at Samarkand Observatory on September 10, 2013 related to enhancing technical and professional human resources from both countries for the development of basic and applied research and innovation. This also marks a step forward in the field of Sino-Uzbeki astronomy, in particular, in optical/near infra-red astronomy and subsequent instrument upgrades, time-domain astronomy, history of astronomy, personnel training, information exchange, etc. Mr. Daniyar Kurbanov, Ambassador Extraordinaire and Plenipotentiary from the Embassy of the Republic of Uzbekistan, also attended the signing ceremony.
As the national team coordinating China's astronomical research, NAOC has set up a comprehensive operational system of astronomical observatories and stations, among which more than 10 are equipped with meter-class optical telescopes, based at Beijing, Shanghai, Jiangsu, Qinghai, Xinjiang, Yunnan, Jilin and Heilongjiang. The national team's next generation big science projects in astronomy include the existing Large Sky Area Multi-Object Fiber Spectroscopic Telescope (LAMOST), the on-going Five-hundred-meter Aperture Spherical radio Telescope project (FAST), and the latest progress in cutting-edge research in the fields of space science and Antarctic astronomy.
In addition, Maidanak Astronomical Observatory of the Ulugh Beg Astronomical Institute, situated in a mountainous area with an altitude of 2700 meters, is a world-class observing site. It has set up several of meter-class telescopes. With the signing of this MoU, both sides agree to make joint efforts to promote cooperation by developing advanced astronomy facilities, instrument upgrades and personnel training for the benefit of the astronomical societies on both sides.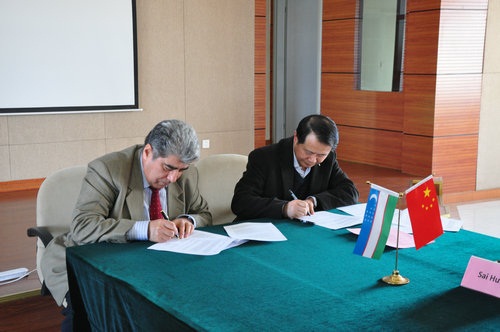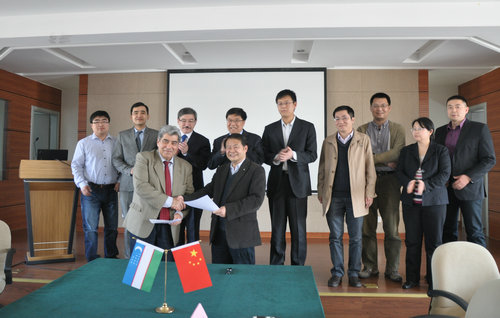 Copyright © National Astronomical Observatories, Chinese Academy of Sciences
Address: 20A Datun Road, Chaoyang District, Beijing, China code: 100012
Tel: 010-64888708 E-mail:
naoc@nao.cas.cn