EACOA Directors Special Meeting Held at NAOC
On January 27-29, 2019, East Asia Core Observatories Association (EACOA) Directors Special Meeting was held at National Astronomical Observatories of CAS (NAOC). This is a special Meeting, apart from the biannual EACOA Directors Meeting, with a purpose to discuss and address some of the urgent and important issues with regard to EACOA status and development.
During the meeting, major issues concerning the development of East Asia Observatory (EAO), a nonprofit Corporation Limited under the umbrella of EACAO, were discussed and reviewed in detail, including its structure, bylaws, Terms of Reference, current and potential projects, operation and financial status. Attended the meeting were the Directors of EACOA and the Board Members of EAO from the member EACOA institutions, including NAOC, PMO, NAOJ, KASI, and ASSIA.
As the MoU for EACOA will be renewed for the period of 2020-2024, the Directors and Board Members reviewed and updated the bylaws, Terms of Reference, selection of new EAO President, its future Headquater and future plans. As the first project under EAO, the operation, budget and future development of the James Clerk Maxwell Telescope (JCMT) were discussed and reviewed in detail. Action items have been listed and will be further discussed and decided in the next EAO Board Meeting.
The attendees value and intend to keep the regional collaboration within EACOA/EAO and with other Asian countries. With the rapid development of EACOA/EAO, it is within the expectation of all the member institutions to work on a strategy in order to attract and raise more funding from different sources.
Alongside the meeting, a bilateral meeting was held between NAOC, represented by Dr. Suijian Xue, Deputy Director-General of NAOC, and NAOJ, represented by Dr. Saku Tsuneta, Director-General of NAOJ, concerning the potential bilateral cooperation on Subaru Telescope under the umbrella of EAO.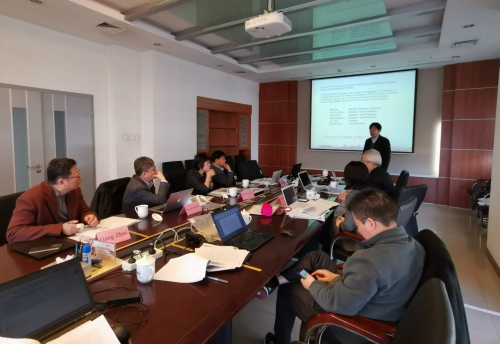 EACOA Directors Special Meeting
Group Photo

Copyright © National Astronomical Observatories, Chinese Academy of Sciences
Address: 20A Datun Road, Chaoyang District, Beijing, China code: 100012
Tel: 010-64888708 E-mail:
naoc@nao.cas.cn