The Sixth AGN-starburst Meeting Held in Guiyang
The sixth "From AGN to starburst: A multi-wavelength synergy" was held on Aug. 12-16, 2019 in Guiyang, China. The meeting was organized by National Astronomy Observatory of CAS (NAOC) and CAS South American Center of Astronomy (CASSACA), along with the Purple Mountain Observatory (PMO). Over 100 participants from 13 countries and regions attended this meeting. The AGN-starburst meeting series is a well-known international galaxy physics conference and it keeps focusing on the most advanced scientific researches and challenges in galaxy formation and evolution.
During the five day meeting, over fifty reports and 17 poster talks were given by experts, young researchers and students. The presentations have a wide coverage, from the latest multi-wavelength observational results across redshifts, to the state-of-art simulation and theoretical models. Recent ALMA (the Atacama Large Millimeter/submillimeter Array) results are reported in studies of outflows, gas distribution and star formation efficiency in both AGNs and starburst galaxies. As for sky surveys in optical and infrared (IR) wavelength, speakers talked about features in different types of active galaxies and observational evidences related to "galaxy quenching". These reports gave a detailed physical view of the relationship between supermassive blackhole (SMBH) and galaxy evolution.
Pic.1. Selected photos of experts giving presentations (Credit: CASSACA)
On Aug. 15th, participants enjoyed a fantastic visit to the Five-hundred-meter Aperture Spherical Telescope (FAST) Observatory, organized by the local organizers at the FAST Observatory. After the introduction report by Dr. Chao-Wei Tsai, people had heated discussion and expressed appreciation as well as intentions for future collaborations with FAST.
Besides presentations, the meeting also sets aside time every day for free discussions. Heated debates and discussions were a common scene during these discussion sessions, over evidences in the connection between AGN and starburst, challenges in linking theoretical and simulations models to observations, as well as topics on large-scale galaxy evolution.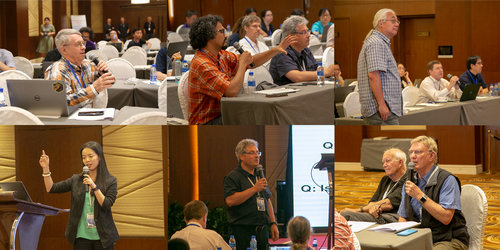 Pic.2: George Rieke, David Rosario, Jiasheng Huang,Y.Sophia Dai, David Elbaz, Dave Sanders in discussions (Credit: CASSACA)
In the last day of the meeting, a special session was dedicated to the many different future instruments and evolutionary results the new surveys would bring us. Principle Investigators or experts from FAST, James Webb Space Telescope(JWST), Einstein Probe(EP), enhanced X-ray Timing and Polarimetry Mission (eXTP) and Chinese Space Station Telescope (CSST) and other future instruments/surveys introduced the latest progresses and future plans. Final remarks and demand for future series were given by the SOC representatives at the end of the meeting. Participants thanked the organization by the LOC and SOC and looked forward to future international collaborations and the next meeting.

Pic.3: Group photo (Credit: CASSACA)

Copyright © National Astronomical Observatories, Chinese Academy of Sciences
Address: 20A Datun Road, Chaoyang District, Beijing, China code: 100012
Tel: 010-64888708 E-mail:
naoc@nao.cas.cn