Celebrating the 30th Anniversary of Australia-China S&T Cooperation- Australia-China Roundtable on Astronomy held in Shanghai
A group of astronomers from the National Astronomical Observatories of the Chinese Academy of Sciences (including Shanghai Astronomical Observatory and Purple Mountain observatory) joined a historic Australia-China Roundtable on Astronomy at the Shanghai Expo on Monday 2 August 2010.
The Chinese delegation of astronomers, including 2 CAS Academicians, Shuhua Ye and Xiangqun Cui, and other 6 professors, joined together with its Australia counterparts who were from 6 representative institutions for astronomical research to cultivate productive and long-term relationships between Australian and Chinese astronomers, institutions and academies, in all areas of astronomy.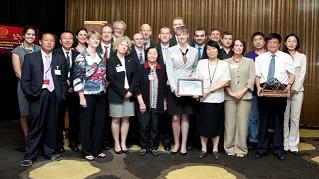 The meeting, chaired by Chief Scientist of Australia, Professor Penny Sackett , was hosted at the Australian Pavilion and attended by Deputy Secretary for the Department of Innovation, Industry Science and Research, Patricia Kelly. The themes discussed at the meeting included the Square Kilometre Array (SKA) and SKA Pathfinders, current and future collaborations in Very Long Baseline Interferometry (VLBI), Antarctic astronomy and large optical spectroscopic surveys.
An overarching discussion included developments in technologies that support astronomy, and a call for policy discussion on information sharing regarding infrastructure and data collection and archiving.
Professor Madam Ye – former Director of the Shanghai Observatory – called for greater cooperation and for the Australian astronomers to continue to 'come back' to China to strengthen the good will and collaboration established yesterday but to also build on current partnerships.
Included also in the common concerns of the Australia-China astronomical communities for further cooperation are the on-going projects carrying out at CAS observatories, such as Five-hundred-meter Aperture Spherical Telescope (FAST), VLBI network (including the 65m and a scheduled 80m radio telescope), 21 Centi-Meter Array (21CMA), Large Sky Area Multi-object Fiber Spectroscopic Telescope (Guoshoujing) All Sky Spectroscopic Survey and China's TMT. Some of the Australia astronomers is scheduling to pay follow-up visits to the Headquarters of the National Astronomical Observatories in Beijing.
The Roundtable on Astronomy is the first of seven such meetings to be organised by the University of Sydney – a Gold Sponsor of the Australian Pavilion at Shanghai Expo.

Copyright © National Astronomical Observatories, Chinese Academy of Sciences
Address: 20A Datun Road, Chaoyang District, Beijing, China code: 100012
Tel: 010-64888708 E-mail:
naoc@nao.cas.cn