Star gazing in hawaii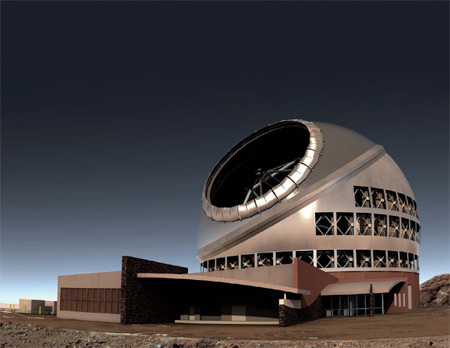 This is the building that houses the Thirty-Meter-Telescope (TMT) project. China has been invited to participate, contributing financial support, research and key equipment. (Photos Provided to China Daily)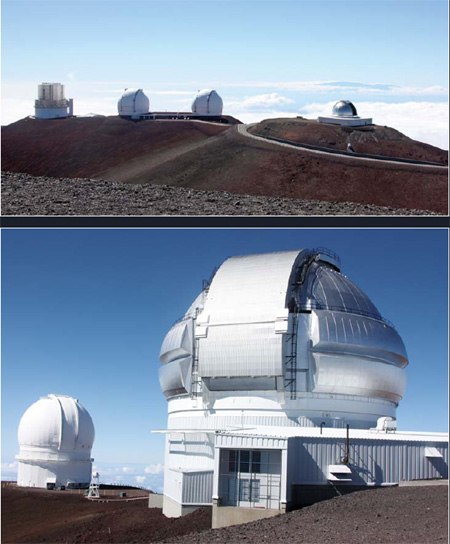 We know Hawaii by its sun, surf and sand, but there is another facet of the islands waiting to be explored. Liu Weifeng shows us the darker side where attractions gleam in the night.
Since the dawn of recorded history, man has been fascinated by the celestial bodies. This was especially true for the Polynesians, who used the stars to guide them on their voyages of discovery around the Pacific, and to Hawaii.
Hawaii, known as a resort paradise, is also a perfect place for watching stars and setting up observatories for astronomy study.
As it prepares to host the coming 2011 APEC leaders' meeting in November, Hawaii is trying to present a full spectrum of the islands' charms, and it wants to show that it can be a scientific research and tour destination that can lure visitors to stay on beyond the week of meetings.
Mauna Kea is on top of the world's "highest" mountain that is 10,203 meter high, except that 4,205 meters rise above sea level and the rest of its 5,998 meters are buried under the sea. It is on the Big Island of Hawaii, and is home to 13 astronomical observatories.
One reason for this proliferation is that it is considered the best place on Earth to watch the stars, mainly because of its clear sky and unpolluted air.
Telescopes here include optical, infrared, sub-millimeter wavelength and radio dishes and since the first one began operation in 1968, these observatories have made numerous ground-breaking discoveries studying planets, star clusters, double stars, nebulae, galaxies, supernova, black holes and more.
Standing on the mountain is like stepping into an alien landscape. The black-and-red earth seems barren of any plant but it is said that this would have been the ideal place for NASA to conduct relevant tests before launching Atlantis to Mars.
The way up to the summit is an unpaved steep and winding road, and constant fluid and tire checks are mandatory because there are no service stations on Mauna Kea. A researcher traveling with us said fatal vehicle accidents happen every year on this road, which insurance companies refuse to cover. But that has not deterred visitors wanting a closer look at the summit and its intimate views of the sunset.
In winter, it only takes two hours to switch from sunbathing in bikinis on the beach to standing on the snow-capped summit - an experience that can be both exciting and unique.
For those going to Mauna Kea, getting acclimatized at Hale Pohaku at the 2,800 meter point is strongly recommended. Weather conditions can be unpredictable and the altitude may affect some visitors at a sudden ascent.
We were all asked to sign a safety waiver form before entering the Canada-France-Hawaii Telescope. Related safety guideline includes restrictions on those under 16 years old, pregnant women and those with cardio-pulmonary problems, or those who have gone scuba diving within the last 24 hours.
Don't go without a four-wheel-drive vehicle, proper clothes, sunglasses and sunscreen.
We were advised to keep gulping water all the way up to the summit to lower the risks of getting dizzy or sick. The higher we climbed, the more lethargic we became, and most of the passengers were leaning back against the seat, and reluctant to talk.
But, once on the top, we could not restrain our joy and excitement as we stood beside the domelike observatory.
The observatory uses a concave mirror instead of a lens, based on a 1669 design by Isaac Newton, and allows the telescope to reach its full potential.
China, too, has been invited to join the $1.4 billion Thirty-Meter-Telescope (TMT) project to work together with the world's top astronomy scientists to gain precious research and observing opportunities. Construction of the TMT next-generation telescope will begin later this year and be completed by 2019.
China hopes to be responsible for research and for supplying some of the key high-tech parts of the telescope. It will also share no less than 10 percent of the financing.
It is roughly estimated that the TMT will be able to read a license plate from 400 miles away, and detect a candle at three times the distance to the moon.
Identifying cars in orbit is not a high priority for scientists, but the ability to see objects in such detail and from so far away has the science community salivating in anticipation.
Mauna Kea possesses more than scientific and tourism value.
It has long been considered a sacred mountain among native Hawaiians, who believe the summit is the nearest point to heaven. Mauna Kea is much more than a shrine and a sacred realm, it is also the burial ground for tribal chiefs, who are believed to have mana, or spiritual power.
And to the scientists at the summit looking at the skies, it is about harnessing potential.
You can contact the writer at liuweifeng@chinadaily.com.cn.
(Liu Weifeng, China Daily 08/21/2011 page16)

Copyright © National Astronomical Observatories, Chinese Academy of Sciences
Address: 20A Datun Road, Chaoyang District, Beijing, China code: 100012
Tel: 010-64888708 E-mail:
naoc@nao.cas.cn