A Delegation from the Sino-German Center for Research Promotion visits NAOC
At the invitation of National Astronomical Observatories, Chinese Academy of Sciences (NAOC), the Sino-German Center for Research Promotion in Beijing visited Xinglong and Huairou Stations, which are part of NAOC, on 11 April, 2014. The delegation was represented by Prof. Qing Chang, the Center's Chinese Director, Prof. Ingrid Kruessmann, the Center's German Director, Prof. Lesheng Chen, the Chinese Deputy Director, and Mr. Miaogen Zhao, the German Deputy Director. These groups had working discussions with NAOC officers and scientists including Prof. Gang Zhao, Deputy Director of NAOC, and Drs. Ye Lu, Jun Pan, Yanchun Liang, Xiaojun Jiang, Liang Gao and Zhenyu Wu on issues with related to Sino-German cooperation projects.
Over the years, the Sino-German Center for Research Promotion has supported studies that involve astronomical cooperation, including projects, research groups, summer schools and workshops. All of these endeavors have enjoyed great success.
During this visit, the delegation gained first-hand experience on the status and progress of projects based at NAOC, including both ground-based facilities and space science missions, the strategy and roadmap of future planning, large international cooperation projects and projects that involve Sino-German Cooperation. In particular, the delegation visited the 2.16m optical telescope, the Large Sky Area Multi-Object Fiber Spectroscopic Telescope (LAMOST, also called the Guoshoujing Telescope) and the Multi-Channel Solar Magnetic Field Telescope. Staff members at NAOC introduced aspects of the Sino-German Cooperation and related science results, such as the joint research group on metal-poor stars, a series of Summer Schools, the CAS-MPA and CAS-MPIfR Partner Groups, the Green Grid of GPU Clusters and the CCOSMA Submillimeter Telescope.
The delegation reported that the Sino-German Center for Research Promotion will continue to support bilateral research and projects in astronomy, specially, those related to ongoing large projects, such as LAMOST and FAST. They believe these efforts will help enhance cooperation in astronomy on both sides.
The Sino-German Center for Research Promotion in Beijing was founded jointly by the National Natural Science Foundation of China (NSFC) and the Deutsche Forschungsgemeinschaft (DFG, German Research Foundation) in 2000, and has received 50% of its funding from each of these organizations. Many Sino-German science collaboration projects and events have been supported since then.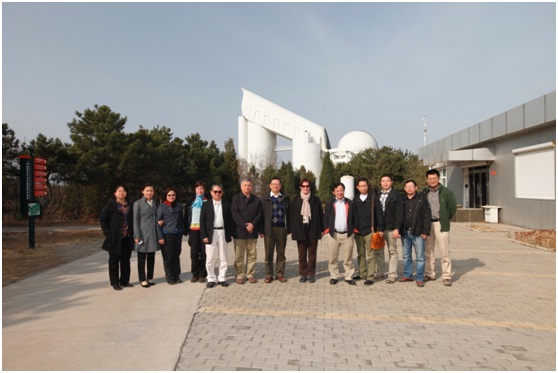 Copyright © National Astronomical Observatories, Chinese Academy of Sciences
Address: 20A Datun Road, Chaoyang District, Beijing, China code: 100012
Tel: 010-64888708 E-mail:
naoc@nao.cas.cn