British Embassy representatives visit NAOC for UK-China collaboration on the "Einstein Probe Satellite" project
On July 1, 2014, Ms. Karen Maddocks, First Secretary of the Science and Innovation Team of British Embassy Beijing, visited National Astronomical Observatories Chinese Academy of Sciences for UK-China collaboration on the "Einstein Probe satellite (EP)" project. The two sides exchanged extensive views on UK-China collaboration in space science projects. Director Yan Jun and Deputy Director Xue Suijian extended a warm welcome for Ms. Karen Maddocks' visit, and introduced the situation of scientific research and international cooperation at NAOC.
Dr. Yuan Weimin (PI of Einstein Probe; Space Science Division, NAOC), presented the details of the Einstein Probe project and the current status of the collaboration with Leicester University in the UK. He also provided some consideration of possible future collaboration with UK. Ms. Karen Maddocks appreciated the scientific significance and the current progress EP project has made. She also expressed interests from the UK to strengthen collaboration with China in the field of space science projects, and explored the possibility of promoting cooperation between the Chinese and British governments on the EP project. After the meeting, Ms. Karen Maddocks visited the X-ray Imaging Lab of NAOC to study the hardware development of the EP project.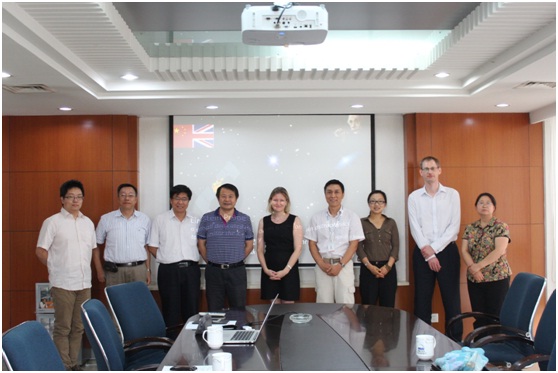 Copyright © National Astronomical Observatories, Chinese Academy of Sciences
Address: 20A Datun Road, Chaoyang District, Beijing, China code: 100012
Tel: 010-64888708 E-mail:
naoc@nao.cas.cn