Bhusan and Beijing: A Nepalese Scientist at Home in China
My name is Bhusan Kayastha and I am from Nepal. I am a PhD student at National Astronomical Observatories, Chinese Academy of Sciences (NAOC). Today, I stand on top of the Fragrant Hill and think about my life in China. Time flies so fast that it has already been 5 years since I came to Beijing. I arrived in Beijing for the first time in September, 2013 as a Master's Degree candidate at the University of Science and Technology Beijing (USTB). On the second day of my arrival, I went to the Fragrant Hill to feel the autumn of Beijing and get a glimpse of the city from the top of the hill. Today, when I stand here I realize so many things have changed in these 5 years. I look at the blue sky and admire the government's effort to control the pollution in recent years. I still remember, in my early days, I could not see the clear sky and stars. Now the air is much better having more days with the blue sky, and I can admire the beauty of stars at night.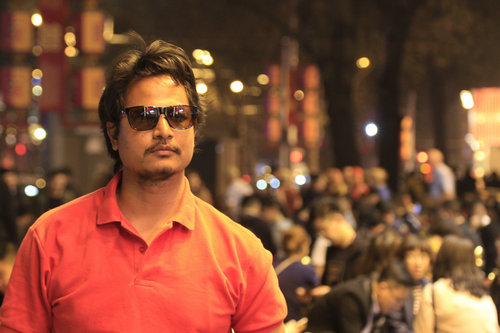 Bhusan Kayastha
My China journey started in 2012 as a Chinese language student at Confucius Institute at Kathmandu University in Nepal. After 4 months of language study, I received a Confucius Institute scholarship to study a semester of Chinese language at Zhejiang University of Science and Technology (ZUST) in Hangzhou, China. I took my first step on Chinese soil on September 9, 2012 in the beautiful city of Hangzhou. There is a saying, "Above lies heaven, below there is Hangzhou and Suzhou." I fell in love with Hangzhou immediately and was ready to experience China. My Chinese was not good at that time. I could barely communicate with people but my Chinese friends and teachers were very friendly so I adapted to the atmosphere quickly. During 4 months of stay in Hangzhou, I completed an extensive Chinese language course, traveled to different cities, experienced Chinese culture and traditions. It was no wonder that I fell in love with China. In 2013, I received a Chinese Government Scholarship to pursue a Master's Degree at the University of Science and Technology Beijing (USTB). I so greatly admire my master degree supervisor, Prof. Dr. Guoquan Liu - he is a great inspiration to me. He earned his PhD at University of Florida in 1984. In the 1980's, China was not so developed and was going through a hard time, whereas, America was full of opportunities for a scholar like him. He could have stayed in the USA and made a good career there, but instead, he chose to come back and work towards the development of China. I believe the present day China is the outcome of the people like him who love their country. People like him inspire me to go back and do something for the development of my home country.
Beijing is my second home now. My family have been to Beijing as well. They came to participate in my master's degree graduation ceremony at USTB. We visited the beautiful places around Beijing like Great Wall, the Forbidden City, Tiananmen Square, Summer Palace, Temple of Heaven, and Houhai, etc. They were very happy and had a positive impression of China. My mother liked the Chinese food and felt the warmth and love from the Chinese teachers and friends. She saw and felt the development of China herself and was convinced that her son is quite happy here. After returning back to Nepal, she has many stories to tell family and friends about her experience in China. My brother fell in love with China as well and he came to pursue his master's degree in International Trade at USTB in 2016. He graduated recently in June, 2018.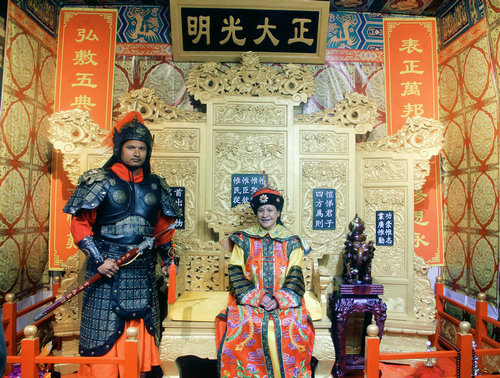 Bhusan Kayastha and his mother in Beijing
After completing my Master's Degree from USTB in 2016, I am continuing my PhD in Computational Astrophysics at the University of Chinese Academy of Sciences (UCAS). I am a part of the Silk Road Team at NAOC which is headed by my supervisor Prof. Dr. Rainer Spurzem. We are an international team, with members from Germany, Hungary, Poland, China, Korea, Nepal, Netherlands, Mexico, Italy, etc. Our team works on the N-Body simulations of star clusters with the GPU supercomputers. NAOC has a GPU supercomputer named "Laohu – The Tiger". We are the astronomers who discover the universe not through the telescopes but through the supercomputers. I am working on the realistic models of star clusters and their gravitational wave emission. One thing I must write here is about President Xi Jinping's idea - the Belt and Road Initiative (BRI). We hear about BRI everywhere these days and my research group's name is Silk Road Team as well. BRI was initiated in 2013, the same year I came to Beijing. In 5 years it is coming up as the biggest project in the history of mankind. The main concept of this project is the connection between the countries, continents and the world. I believe this project will connect the people around the world and bring positive developments in their life. I feel happy to be in China when this project is taking shape.
Science and technology have made life very easy and convenient. I live in the Zhongguancun area of Beijing, which is considered as the Silicon Valley of China. I have myself witnessed the invention of shared bicycles such as Ofo and Mobike. It is such a simple and beautiful idea that has changed the lives of people. What amazes me most is the Chinese people's ability to quickly adapt to these technological changes. I feel happy when an older person takes out his mobile and pays his bill through Weichat or Alipay and then rides an Ofo or a Mobike back home using the same mobile. Chinese people have gone through many difficulties and changes in the past and they are building a strong nation now. They can adapt and welcome every change or technological advancement with time.
The most fascinating thing about China is that it is so big, diverse and vibrant with different kinds of places with different culture and traditions. I am fond of Chinese food - I especially like the spicy Sichuan dishes. Even from childhood, I have always been influenced by traditional Chinese culture. I am a big fan of Kung Fu movies. I am an art lover. My family has a Thangka art gallery named "Art Kathmandu" in Nepal. I have been surrounded by art since childhood. China is so rich in arts, culture and tradition. Everything is art here, the calligraphy, the tea culture, the food culture, etc. I like Chinese ink paintings and silk crafts. I have an eternal bond with China and I plan to continue it in future as well in the form of scientific, technological and cultural exchanges with Nepal.
I am still continuing my Chinese lessons at NAOC. NAOC have organized Chinese classes for foreigners working and studying at the Chinese Academy of Sciences. I think this gives a platform for foreign friends to learn and study Chinese language and culture. In closing, I would like to say that at first the Confucius Institute discovered me and now I am discovering China. The more I understand, the more I love China.
Long Live China-Nepal friendship!
Bhusan Kayastha
National Astronomical Observatories, Chinese Academy of Sciences
University of Chinese Academy of Sciences
Email: kayastha@nao.cas.cn

Copyright © National Astronomical Observatories, Chinese Academy of Sciences
Address: 20A Datun Road, Chaoyang District, Beijing, China code: 100012
Tel: 010-64888708 E-mail:
naoc@nao.cas.cn