RAA, the only astronomy SCI journal in China, just had its 20th anniversary
On December 25, 2020, the Research in Astronomy and Astrophysics (RAA), a peer-reviewed international journal in astronomy and astrophysics, celebrated its 20th Anniversary, together with a RAA Development Strategy Seminar held at the National Astronomical Observatories of the Chinese Academy of Sciences (NAOC). Over 60 invited participants attended the anniversary ceremony, including Chinese Academy of Sciences (CAS) Members, NAOC policy-makers, relevant scientists, RAA author representatives. During the meeting, the trophies have also been presented to the winners for the Special Contribution Award, the Outstanding Scientific Editor, and the RAA Excellent Paper Award.
"This is of great significance for RAA and for astronomy development in China as well," said Prof. Chang Jin, Director-General of NAOC and Member of CAS. He said that NAOC will fully support the innovation of RAA, and strive to make RAA the first-class academic journal in the world.
Prof. Han Zhanwen, Member of CAS and the co-Editor-in-Chief of RAA, briefed the current situation of RAA to all the participants. He said that RAA, as the only astronomy SCI journal in China, is now in a critical period of its development. And it needs to publish more high-quality articles to enhance its international visibility and competitiveness.
"We still have a long way to go," Said Prof. Wang Jingxiu, Member of CAS. "If RAA wants to grow into the world-class academic journal, there are still many difficulties and challenges that RAA must to face."
RAA is a peer-reviewed international journal publishing rapidly growing researches in astronomy and astrophysics, not only in China, but the whole Asia-Pacific region and beyond. It is sponsored by National Astronomical Observatory of Chinese Academy of Sciences and hosted by the Chinese Astronomical Society. RAA has a distinguished editorial board with extensive academic qualifications, ensuring high academic standards and a broad international coverage. It aims to provide a forum for the rapid dissemination and communication of significant original research as well as reviews in astronomy and astrophysics. The journal welcomes submissions from astronomers world-wide. It can be accessed at http://www.raa-journal.org.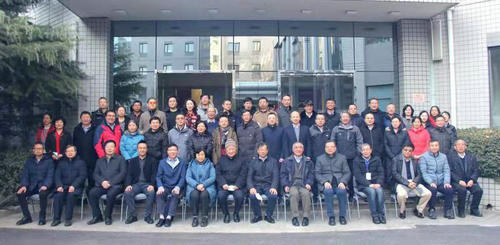 Group Photo

Copyright © National Astronomical Observatories, Chinese Academy of Sciences
Address: 20A Datun Road, Chaoyang District, Beijing, China code: 100012
Tel: 010-64888708 E-mail:
naoc@nao.cas.cn