Beijing-Arizona Sky Survey Release its First Data
Beijing-Arizona Sky Survey (BASS) is a new g and r-band imaging survey conducted by National Astronomical Observatory of Chinese Academy of Sciences (NAOC) and Steward Observatory, following the success of the South Galactic Cap u-band Sky Survey (SCUSS). It is one of three optical imaging surveys in Dark Energy Spectroscopic Instrument (DESI) project, which will be largest deep photometric surveys in the world. At present, we have signed MOUs between NAOC and UA and between NAOC and DESI. Consequently China gained the DESI membership.
The BASS will cover 5,500 square degrees in the north Galactic cap with imaging depths of 1-2 mag deeper than the famous Sloan Digital Sky Survey. The first data release (DR1), including the observations of the first two years, was opened to public in January 2017 and the data is available for astronomers all over the world. The BASS data, as well as the data from other DESI imaging surveys and WISE infrared survey, will provide us with unique opportunities for understanding the halo substructure and formation of the Milk Way, nature of galaxy formation and clusters, strong lensing, high-redshift quasars, and large-scale structure of the Universe etc. The BASS will help to put China at the forefront of wide-field survey astronomy and to train a new generation of astronomers best prepared for the big data science enabled by Large Synoptic Survey Telescope (LSST), Dome-A and the space station projects.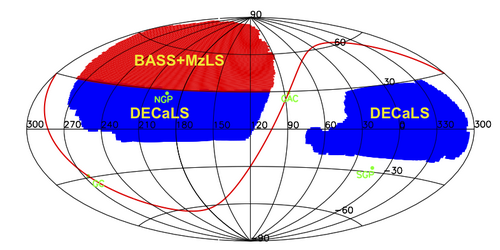 DESI Imaging Survey Areas

BASS Observation Progress

Copyright © National Astronomical Observatories, Chinese Academy of Sciences
Address: 20A Datun Road, Chaoyang District, Beijing, China code: 100012
Tel: 010-64888708 E-mail:
naoc@nao.cas.cn