FAST Detects Multiple Bursts from FRB 121102
Five-hundred-meter Aperture Spherical Radio Telescope (FAST), the world largest single dish radio telescope, began commissioning on 25th September, 2016. In February 2019, it announced call for proposal publicly to Chinese astronomers. More than 133 proposals from 21 institutes including the University of Hong Kong were received. From 18th April, 2019, granted proposals start to arrange observations.
In its recent tracking observation of the Fast Radio Burst(FRB) FRB121102 using FAST L-band 19-beam receiver (with FWHM of ~2.95' for individual beam), FAST detected multiple bursts. The bursts were firstly identified by the FAST FRB backend on August 29th (UT), which performs real time signal processing of 19-beam data and automatic candidate selection/triggering. The subsequent single pulse search using multiple pipelines have turned up many tens of pulses with significant SNR in observations carried out so far, from 29thAug to 3rdSep(UT). The total number of bursts detected from FRB121102 this time is known to be the highest by far. Careful cross-check and further processing are being carried out.
FAST FRB backend was developed by the National Astronomical Observatory of Chinese Academy of Sciences (NAOC), with collaborators from UC Berkeley, Beijing Normal University and Xinjiang Astronomical Observatory. It passed technical review and final project review in Nov 2018 and was rated as excellent NAOC project. The FAST FRB backend system has high-efficiency real-time pulse capture capability, and can observe in parallel with most observation tasks. It will play an important role in discovery of new FRBs, improving the position accuracy and capturing the high-resolution absorption lines generated by FRB in real time.
FRB are the brightest burst in radio band currently known in the universe, but there is no reasonable explanation for their origin. The repeated bursts detection of FAST will promote the research on understanding the origin and physical mechanism of FRB.
FAST has been targeting FRB 121102 since April 2019. In addition to the regular on-going FRB follow-up programs, the current observation was also motivated by timely and valuable alerts from our colleagues in the INTEGRAL team, Arecibo team, Max-Plank Institute for Radio Astronomy, Berkeley, and Cornell University. The information that FAST detected multiple bursts was also reported through astronomer's telegram (ATel#13064, http://www.astronomerstelegram.org/?read=13064). Given the significance of this source and its now apparent active state, FAST is executing more observations under the auspice of engineering testing time and multiple approved PI-led programs, which targeted FRB 121102. We encourage more observations with other facilities.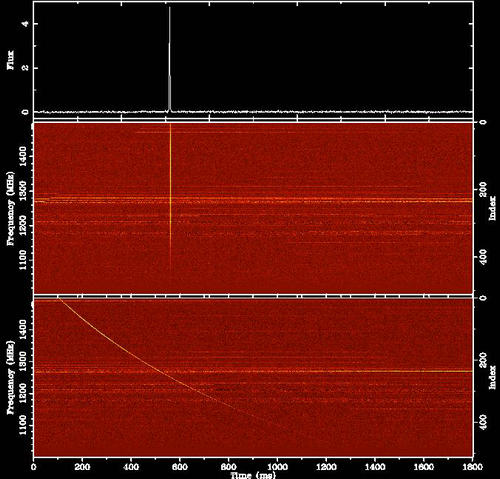 Figure: Burst from FRB121102 captured in real time with FAST FRB Backend

Copyright © National Astronomical Observatories, Chinese Academy of Sciences
Address: 20A Datun Road, Chaoyang District, Beijing, China code: 100012
Tel: 010-64888708 E-mail:
naoc@nao.cas.cn