BEIJING, July 26 (Xinhua) -- The National Astronomical Observatories of China (NAOC) signed the Thirty Meter Telescope (TMT) Master Agreement on Friday, a global project that will explore mysteries of the Universe by using next-generation telescopes.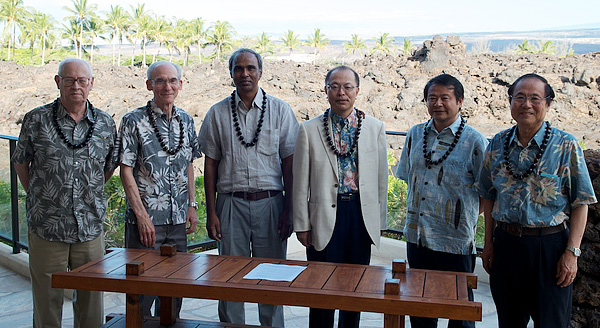 At a signing ceremony in Hawaii, where the telescope will be constructed in April 2014, China jointly signed the agreement with other international parties, including the United States, Canada, Japan and India, marking a major step forward in the creation of a revolutionary astronomical facility.
"China is excited to be an active partner of such a world-leading facility, which represents a quantum leap for our community. With yet another major step taken, we look forward to many decades of solving the mysteries of the cosmos from Mauna Kea," said Yan Jun, the NAOC director general.
The next-generation astronomical observatory is scheduled to begin scientific operations in 2022 on Mauna Kea, Hawaii.
"TMT is a unique and vibrant collaboration among universities in the U.S. with institutions in Canada, China, India and Japan. Uniting these various parties under a master agreement stands as a significant accomplishment for TMT as a scientific endeavor with global reach," said a TMT project statement.
"The signing of this master agreement marks a major milestone in the official commitment to and formalization of this global collaboration, ensuring that the TMT project is on schedule and progressing smoothly," said Henry Yang, chair of the TMT Collaborative Board.
"We have been working towards this moment for a long time and this is a special day for astronomy's next-generation observatory," Yang said.
The master agreement brings together the TMT partners for the purpose of developing, designing, financing, constructing, commissioning, operating and decommissioning a next-generation, 30-meter class astronomical observatory, said the statement.
The document establishes a formal agreement amongst the international parties defining the project goals, establishing a governance structure and defining member party rights, obligations and benefits, it said.
"We are pleased with this vote of confidence from the scientific authorities," said Edward Stone, vice chair of the TMT Board. "Their signing of this master agreement is a key endorsement of TMT's scientific merits as well as the project's overall implementation plan."
In advancing the TMT project, the next step will be for the financial authorities of the partners to sign the document and finalize the funding plan, said the statement.
TMT is a collaboration of the California Institute of Technology, University of California, the Association of Canadian Universities for Research in Astronomy, the National Astronomical Observatory of Japan, a consortium of Chinese institutions led by the NAOC of the Chinese Academy of Sciences, and institutions in India supported by the Department of Science and Technology of India.
Major funding has been provided by the Gordon & Betty Moore Foundation.
(Source: http://news.xinhuanet.com/english/china/2013-07/26/c_132577273.htm)