On Monday 5th September, Prof. Jun Yan, Director General of National Astronomical Observatories of Chinese Academy of Sciences (NAOC), and Dr Romano Corradi, Director of the Gran Telescopio CANARIAS (GTC),signed an agreement for scientific and technological collaboration at the Office of the Secretary of State for R+D+I in Madrid. The signing was presided over by Prof. Chunli Bai, President of Chinese Academy of Sciences (CAS), and Ms.Carmen Vela,Secretary of State for R+D+I of Spain.
The objective of the agreement between NAOC and GTC is to strengthen the collaborations between the two parties, and includes the provision by NAOC of an advanced instrument for the GTC and the possible access to 5% of observing time on the telescope. This could lead to NAOC becoming a full member of the international user community of the GTC.
On the days before the signing the agreement, Prof. Chunli Bai led a delegation to visit the Instituto de Astrofisica de Canarias (IAC), and its Observatory of Tiede (OT) in Tenerife island and the Observatory of Roque de los Muchachos at La Palma island. The SONG project with its 1m telescope settled on OT has its collaborating telescope of SONG China node in Delingha. The two 1-m telescopes are trying to do joint observations on stars and variable objects. The delegation pays more attention on visiting the GTC, including its instruments and observing modes etc.
In addition, the two parties also discussed the possible collaborations on the European Solar Telescope and the Liverpool Robotic 4m telescope. They also discussed the TMT project.
During the visit, Prof. Bai and delegation also meet with President of the Government of the Canaries, Fernando Clavijo, President of the Cabildo of Tenerife, Carlos Alonso, and President of the Cabildo of La Palna, Anselmo Pestana. The governors state they will support the collaborations between IAC/GTC and China.
Mr. Huang Yazhong, Minister Consejero, and Mr. Zhai Yue, First Secretary of S&T Affairs from the Chinese Embassy in Spain; Prof. Jinghua Cao and Mr. Xiaofeng Lu from the International Cooperation Bureau of CAS; Prof. Rafael Rebolo from the IAC; Prof. Gang Zhao, Deputy Director of NAOC, Prof. Jifeng Liu, Vice-Director of School of Astronomy and Space Science in UCAS and Prof. Yanchun Liang, Director of International Cooperation Division from NAOC also attend the signing ceremony.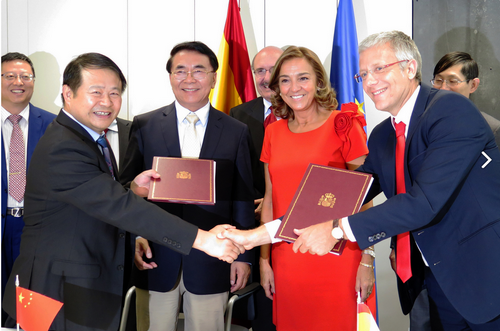 The Signing Ceremony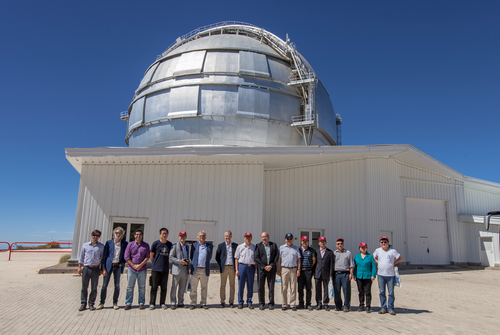 The Site Visit