Ethynyl radical (C2H) and Diazenylium (N2H+) are among the first molecules and ions discovered in interstellar space. They are good tracers of important elements, namely, carbon and nitrogen, particularly in dense gas, where the new stars will be born.
Researchers (Zhichen Pan, Di Li, and Lei Qian) in the Interstellar Medium group of NAOC obtained the first large scale (2.5-square-degree) C2H and N2H+ maps of the ρ Ophiuchi Molecular Cloud, which is actively forming new stars at about 400 light years away from our solar system. The data were taken with the 13.7-m millimeter radiotelescope (in Qinhai Station)operated by the Purple Mountain Observatory. Four new dense clumps and one C2H ring, namely Oph-J, Oph-K, Oph-L, Oph-M, and Oph-RingSW, were identified for the first time. Our chemical models shows that the abundance ratio of[C2H]/[N2H+] decreases with time during the cloud's evolution, making it a potentially important indicator of the chemical states. The mapsand the model were published in the Astrophysical Journal in January 2017. Prof. Qiang Chang (XAO), Prof. Edwin Bergin (UMI), and Prof. Junzhi Wang (SHAO) are co-authors of this paper. These studies are supported by "CAS Interdisciplinary Innovation Team" and the "FAST Fellow" program.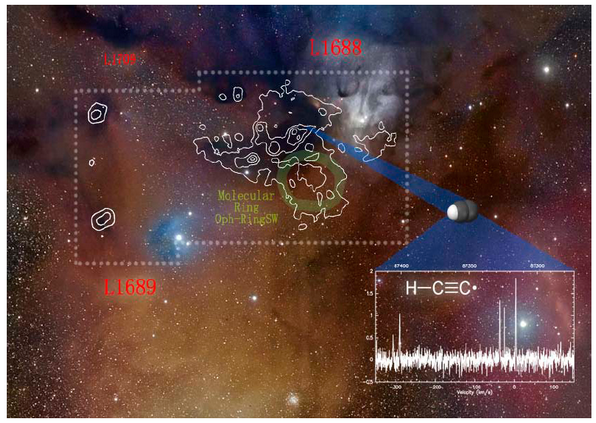 The main part ofρ Ophiuchi Molecular Cloud (background, in optical; red letters are names for several parts), the observation region (white dotted boundary), C2H emissions regions (white contours), the C2H molecular ring (in green), the C2H molecule, and one C2H spectrum.
The background image and the model of C2H are from Wikipedia: Uhttps://en.wikipedia.org/wiki/Rho_Ophiuchi_cloud_complexU and Uhttps://en.wikipedia.org/wiki/Ethynyl_radicalU.