Nepalese Scientist from NAOC awarded with prestigious China Friendship Award
Bhusan Kayastha, a Nepalese scientist at National Astronomical Observatories of the Chinese Academy of Sciences (NAOC) has been awarded the prestigious "China Friendship Award" during the ceremony to commemorate the 70th anniversary of the founding of the People's Republic of China. Bhusan Kayastha is the youngest person to receive this award. He was also given the honorary title of the "Prince of Nepal" during the ceremony.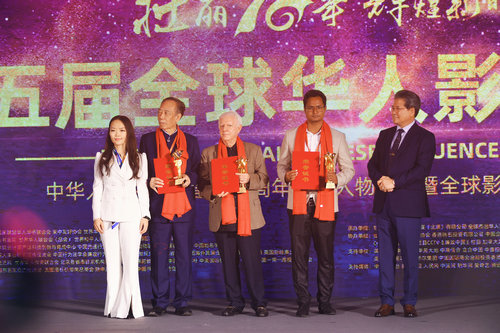 Bhusan Kayastha receiving the China Friendship Award
"The Fifth Chinese Global Influences Festival" was organized on August 4, 2019 at Beijing International Hotel, Beijing by the Chinese government in collaboration with Cloud Computing Center of the Chinese Academy of Sciences, China Enterprise Park International Cooperation Alliance, China Circulation Industry Management Political Research Institute and around 40 other organizations. Hundreds of Chinese elites from all over the world attended the event.
Bhusan Kayastha was awarded with the China Friendship Award for his outstanding contribution to China-Nepal bilateral relations and cultural exchanges as well as making the positive impressions of China around the world. Mr. Kayastha is a member of the Silk Road Project at NAOC. He is working in the field of "Realistic Models of Star Clusters with White Dwarfs, Neutron Stars and Black Holes using the GPU Supercomputer" under the supervision of German scientist Prof.Dr. Rainer Spurzem. The prestigious award has been previously given to personalities including former UN Secretary-General Ban Ki-moon, American businessman Steven C. Rockefeller Jr., Nobel Prize winner Tu Youyou and piano superstar Lang Lang.

Copyright © National Astronomical Observatories, Chinese Academy of Sciences
Address: 20A Datun Road, Chaoyang District, Beijing, China code: 100012
Tel: 010-64888708 E-mail:
naoc@nao.cas.cn